Pink All The Way!!!
So this is one of the last creations from my studio before I head to Bali for the winter.
I´m a huge fan of pink... DUH!
Almost every time I sit down and create, I end up being just about 70%++ pink when I call it the night.
I can´t help myself, pink is just the happiest color of them all!
In this look, I used a lot of face paint and eyeshadow for blending. The rest is up to you, it is so incredibly important in my eyes to let yourself be creative, just do. I know it´s super easy to get inspiration from all over the internet, but what are you?
I try, at least once a month to sit down, with no plan what so ever and start painting.
Let´s be honest, I´m not always happy with everything I make, but I also know that this is how I learn. I´m obsessed to learn new things all the time, it´s just a part of us as human beings.
So this is what I came up with, the look has no name, it´s just pink.
Hope you like it and I really hope you treat yourself to create something crazy as well!
Products used:
FAB - Face Paint Pink
Snazaroo - Black Face Paint
Urban Decay - Electric Palette (pink)
Jeffree Star Cosmetics - Beautykiller Palette (pink)
NYX - Ultimate Palette Sugar High
MakeupGeek - BlackLight Eyeshadow
NYX - Black Eye & Eyebrow Pencil
Isadora - Big Bold Mascara
Makeup Mekka - 5XL Mascara
Flutter Lashes - Provocative
NYX - Pigments 16
Makeup Mekka - Glitter Liner
Star.style.wigs - Unicorn wig
See the video here: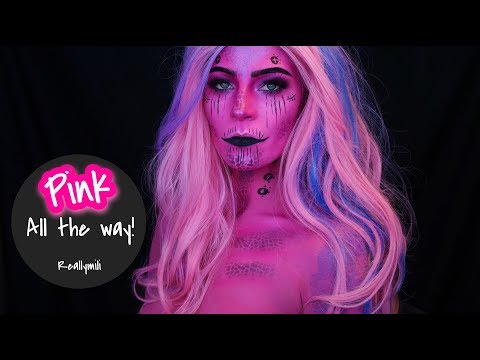 #makeup #sminke #skjønnhet #pink #youtube #makeupmekka #nyx